Yesterday was the 4th of July, Independence Day for us Americans. I had planned on writing on the 1993 Roland Emmerich film Independence Day, only to find that, for some reason, national networks elected not to broadcast it this year, and I don't care enough to own ID4 on home video, and I don't want to offer opinions on a film I sort of remember without rewatching it. So I thought to myself, "What's another extremely pro-American 1990's action film?" Of course, there's only one other option:
That tagline alone screams 'Murica. "Harrison Ford is the  President of the United States." But this ain't your granddaddy's president, this POTUS kicks ass.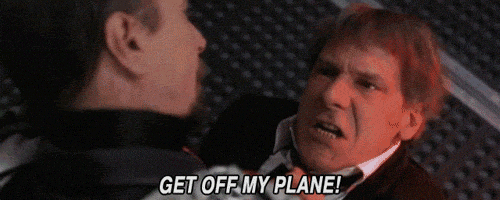 That gif is undoubtedly the most remembered scene from the film, a one-liner for the ages. But it follows a taut, well-crafted claustrophobic action-thriller, a film made in the style of the original Die Hard, and often cited in the great legacy of "Die Hard rip-offs," unquestionably in the top tier with other 90's action classics like Speed.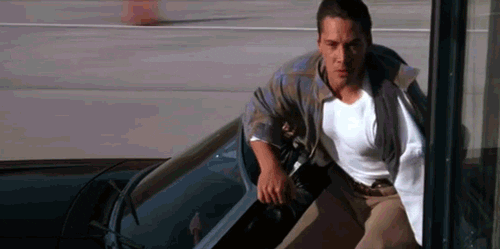 Don't get me wrong, Air Force One is silly. It's really silly, really jingoistic, really simplistic in its political message, which is basically that America should never, ever negotiate. Or something. The point of the matter is that a group of post-Soviet militants (led by Gary Oldman affecting a semi-realistic accent) manages to sneak aboard Air Force One masquerading as a group of reporters, and plan to ransom the president for political negotiation, right after he said he wouldn't negotiate! Oh the I-RO-NY! Rather than behaving as a rational human being would and using his escape pod, the President decides instead to utilize his convenient military background to take back his plane, kill the terrorists, and rescue his wife and daughter.
Sound familiar? That's because it's the plot of EVERY ACTION MOVIE EVER MADE. But this time it's the president doing the action, which lends a level of stupid novelty to the whole affair. The typically compelling screen presences of Ford and Oldman keep the film on the whole entertaining, though it never amounts to anything more than a slightly above-average action movie with a fairly unique spin on a familiar premise.
An entertaining action-thriller, and a staple of the late 90's, Air Force One provides on-the-whole enjoyable action thrills, creating a rewatchable, though not especially memorable B- film.
---