Today I was inducted into the Large Association of Movie Blogs. That's right, as of June 11, 2016, I am a LAMB. Baaaaa!!!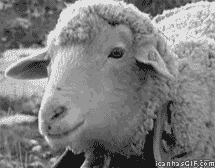 What does this mean for That Other Critic? Well, it means I'm now part of a larger collective, "One of THEM," if you will.
I'm just grateful to have been accepted, so a big thanks to Jay Cluitt, from LifeVsFilm.
I"m working on putting together my next post, a review of the 1968 horror film Rosemary's Baby, but, until that's completed, thank you and goodbye.